Films and Documentaries from Today's Arab World
The BBC are proud to announce the programme for the upcoming 2019 BBC Arabic Festival.
Taking place in the iconic art-deco Radio Theatre at BBC's Broadcasting House in central London, the festival screens short films and documentaries about current social and political changes taking place in the Arab world. The screenings are followed by filmmaker Q&A's and complimented by a selection of talks and presentations about the art and processes of non-fiction filmmaking in the Arab world. The festival's closing event is a televised Awards Ceremony, with musical guest and comedy performances by the most sought-after talent from the Arab world.
All events are open to the public; we look forward to seeing you there!
REGISTER FOR FREE TICKETS FROM THE BBC SHOWS & TOURS PAGE
Festival Programme
BBC Arabic Festival 2019 Judges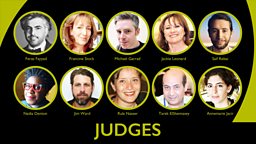 BBC Arabic Young Journalist Award
BBC Arabic annually rewards the most promising person aged 18 to 30 with a prize that includes training, mentoring and equipment.
For more information about the BBC Arabic Young Journalist Award, click here